3-Minute Thesis Competition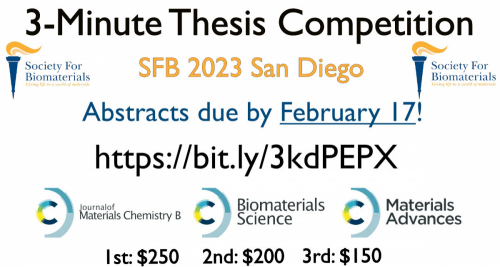 The event will feature cash prizes and an all-star judging panel with people you want to impress. This competition is open to all student (defined as prior to obtaining a post-graduation position such as a post-doc) SFB attendees.
Registration ended on Friday, February 17th at 11:59 PM EST.
Thank you to all who submitted!
In a 3-Minute Thesis ("3MT") Competition, students present a single static slide as a compelling summary of their dissertation research and its broader impacts. Presentations must be at most three minutes and targeted to a non- technical audience. 3MT is a great way to practice your presentation skills and think about how to convey the significance of your work.
Our 3MT Competition is scheduled for the Annual Meeting taking place in sunny San Diego April 19th to April 22nd. More details will follow at a later date. We are happy to announce that the event has been sponsored by the Royal Society of Chemistry biomaterials journals (Journal of Materials Chemistry B, Biomaterials Science, and Materials Advances), allowing us to provide the following prizes:
1st place $250
2nd place $200
3rd place $150
Questions may be sent to Nick Fischer (fisc0456@umn.edu) and Grant Scull (gmscull@ncsu.edu).
We thank the Royal Society of Chemistry for sponsoring this event!